Want a Laundry so good you will look forward to washing day?  How about a Divine Renovations laundry?
We have put together a list of all the things you need for the best, most functional laundry that will meet yours and your families needs and have you wanting to do your washing again and again.
Divine Renovation Rule Number #1:
The laundry needs to be practical – it needs to contain all the right elements to allow you to do what you need to, and it needs to be designed so that there's ample room for you to work, bend and shift around where you need to.
Divine Renovation Rule #2:
When you're building or renovating your laundry it's best to try and keep your appliances and plumbing all together on one wall – both to help save space, and to keep all the plumbing together.
Divine Renovation Rule #3:
Laundry chemicals can be quite dangerous, and if you've got small kids it's best to make sure you've got somewhere inaccessible to store them.
Divine Renovation Rule #4:
To design an efficient laundry room that saves you time and effort, think about the tasks involved: sorting clothes, washing, drying, and folding. Arrange the work surfaces to facilitate that flow. Make it easy for yourself to go from the washer to the dryer to the countertop for folding.You may also want to incorporate a built-in ironing board, or a table if you are short on space.  Shelves above the washer and dryer keep laundry products within easy reach. Maximum efficiency is what you want to make the laundry process a breeze.
Divine Renovation Rule #5:
Laundries near the back door also act as a 'mud room', where dirty shoes and clothes can be dealt with before they're dragged around the rest of the house.
Divine Renovation Rule #6:
Make sure your washer/dryer duo has what it needs to function properly. Washers require drains and hot and cold water lines. Floor drainage for overflowing troughs or washing machines. Make sure you have room to walk around your washing machines without bumping into them.
Divine Renovation Rule #7:
 In a 2 storey home – a laundry chute.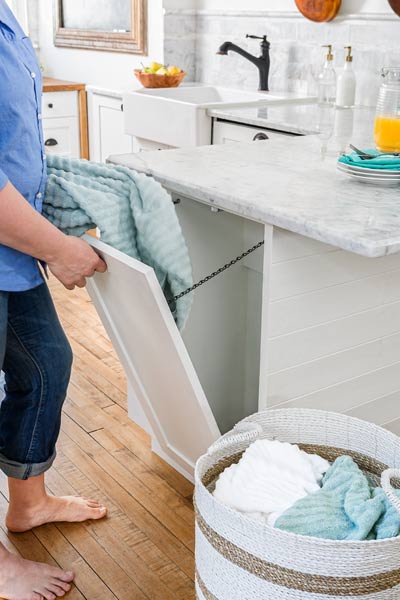 Divine Renovation Rule #8:
Make space for folding your laundry. Install a countertop so you have a place to fold clothes as they come out of the dryer. Make sure you choose a durable surface.  Any of the countertop and flooring surfaces that make sense in your divine bathroom or divine kitchen also make sense for the laundry room.
Divine Renovation Rule #9:
Dont forget space for hanging your freshly ironed clothes.
Divine Renovation Rule #10:
Make sure you make use of natural light, and install good lighting to brighten your laundry.  se under-cabinet fluorescent tubes or LED under-cabinet fixtures to illuminate the countertop so you can match socks or check clothing for spots and stains.
Divine Renovation Rule #11:
Whichever laundry design you choose, it's easier to do laundry if the room makes you happy to be in it. Decorate your laundry room in a way that expresses your personality.

Divine Renovations is a leader in the home renovation industry and specialises in quality kitchen, laundry, outdoor kitchen and bathroom renovations in Brisbane, based on the Brisbane Northside with a mobile service covering all of Brisbane. A local family business, run by lead Designer Jim Attwood, who has been operating in the Bathroom Industry and Kitchen Industry in Brisbane Northside for many years. Divine Bathroom Kitchen Laundry exists to 'make renovating easy' for our busy customers.